''Followers always have such fun,
With cake and buns for everyone''
History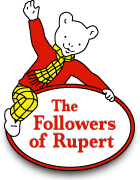 The Followers of Rupert was formed in 1983 to bring together Rupert Bear enthusiasts and to promote the appreciation of Rupert's past, present and future. The Followers are not an over-serious organisation, but largely adults who enjoy the "fun side" of Rupert while recognizing the quality of the storytelling and artwork in the Rupert stories and respect him as a character in illustrated children's literature, not a cartoon character.
The organisation is intended primarily for adults, but young people and children are more than welcome. They enjoy the support of Rupert's owners and publishers and see it as their mission, in part at least, to encourage, monitor and comment upon Rupert's development.
The Society gets its name from the Rupert annuals. Each year at the end of the stories is a page advertising Rupert in the Daily Express and on that page is the slogan 'Follow Rupert in the Express' and so we are 'the Followers'!
As well as a regular Newsletter the Followers produce many Rupert related items. These include a Rupert calendar every year and regular Newslettter Supplements featuring DailyExpress Rupert stories that have never before been reprinted. There is also a range of Christmas cards, Notelets and postcards, plus some specials such as the book 'Rupert and the Women in his Life' and the Bestall tapes, a double CD which features Alfred Bestall talking about his life and involvement with Rupert. All these items are available only to Followers and many are sent free to subscribing members
Exclusi
Members are also able purchase other Rupert memorabilia, not available on the open marketplace but commissioned and designed especially for the society. This has included figurines, Christmas cards and T-shirts. From time to time there are specially commissioned re-prints of long forgotten Rupert stories that have not been published for decades which you will receive as a free gift if you are a member.
Junior Club
The Junior Club is currently dormant but, as always, we will still have plenty of activities to keep our younger members amused throughout the day.
Members
Past Presidents have included Alfred Bestall and Terry Jones. Honorary members include Paul McCartney who wrote the popular Frog Song.
The followers are currently approaching 1000 members wordwide and invite you to join them.
Contact
Visit the website from the Follwers to learn more about them or to join them!
The Followers of Rupert Bear The official Rupert Bear Society Website
The Secretary, John Beck 29 Mill Road, Lewes, East Sussex BN7 2RU el 01273 477555
secretary@rupertbear.co.uk.