Here are all the Rupert Bear annuals published every year since 1936 and still going?
Click on a cover image in the slider to find out more about your favourite annual. (work in progress)
Rupert Bear Annual 1936Edit
Contents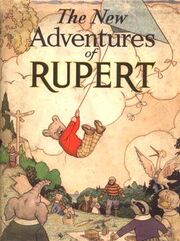 Rupert and the Wonderful Kite
Pictures for Your Paint-box
Rupert, Algy, and the Cannibals
Pictures for your Paint-Box
Rupert, Bill, and The Pearls
Rupert's Christmas Adventure
Picture for your Paint-box
Rupert Bear Annual 1937Edit
Contents
Rupert and the Snow Machine
Rupert and the Flying Bottle
Rupert and the Little Men
Rupert, Algy and the Smugglers
Rupert and the Chinese Cracker
Rupert Bear Annual 1938Edit
Contents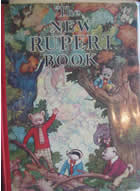 Rupert Bear Annual 1960Edit
Contents
Puzzle - Find Rupert's Chums
How to Make Rupert's Paper Donkey
Puzzle - Solve the Jumbled Names
Puzzle - Guess the Sports and Games
Rupert's Magic Painting Pictures
How to Frame the Magic Paintings
Rupert's Picture-book Crossword
Rupert and the Diamond Leaf
Puzzle - Which Things Begin with 'T'?
Rupert Bear Annual 2009Edit
Contents
Meet Rupert and his Friends
Rupert and the Ice-Cream Van
Rupert and the Fairy-Tales
The History of Rupert Bear
Rupert and the Branch Line
Ad blocker interference detected!
Wikia is a free-to-use site that makes money from advertising. We have a modified experience for viewers using ad blockers

Wikia is not accessible if you've made further modifications. Remove the custom ad blocker rule(s) and the page will load as expected.