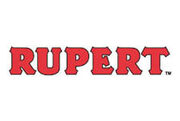 Rupert (TV series) is an animated television series based on the Mary Tourtel character Rupert Bear, which aired from 1991 to 1997 with 65 half-hour episodes produced.
Plot
The adventures of a young bear named Rupert who unintentionally ends up in faraway and mystical places, but in the end he manages to make it back safely to his home of Nutwood.
Characters
Theme song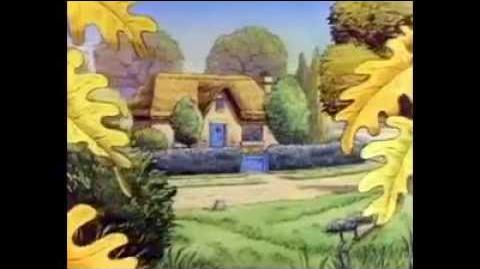 The theme music (the overture) played at the beginning of the show (and, with slight modifications, during the closing credits) was composed by Milan Kymlicka. The opening notes of the melody (particularly the first four notes) appear to be based on Robert Schumann's The Happy Farmer Returning from Work, Op. 68, No. 10, but the piece then evolves into a highly original, wonderfully melodic and well-orchestrated work.
When this series aired on Nickelodeon in the U.S., a different theme was written for it and used. This song was performed in a peppy, rollicking, ragtime style, with lyrics and vocals in the intro, and an instrumental of this same tune in the outro. This composition, Rupert's Number One, was co-penned by Sheree Jeacocke and Gerry Mosby, and was possibly also sung by the former.
Scenes in the intro used in this version were different from the original as well. Here, scenes used for it were taken from various episodes mostly and the ending credits differed (aside from the scene of a silhouette of one of Rupert's friends releasing the box kite as it's lifted up by the wind and Rupert pulls it away while running) from the initial, in that in the Nick Jr. version, after getting a close up of the kite, the scene switches to various scenes of Rupert with another, different character (or other different characters).
In the initial, after the kite has been lifted and there's a close-up shot of it, it's zoomed in so far that all that is seen is the color red, over which the credits are superimposed. Then there's a zoom-out of the kite and the only still scenes of either Rupert on his knees and crawling on the grass while Tiger Lily tries to bring down the kite from a tree, Rupert bends over lifting Bill to get kite, or Rupert trying to get the kite while Podgy eats in the apples in the trees. Playhouse Disney has also aired Rupert in the early 2000s in the United States, but used the original intro.
Ad blocker interference detected!
Wikia is a free-to-use site that makes money from advertising. We have a modified experience for viewers using ad blockers

Wikia is not accessible if you've made further modifications. Remove the custom ad blocker rule(s) and the page will load as expected.