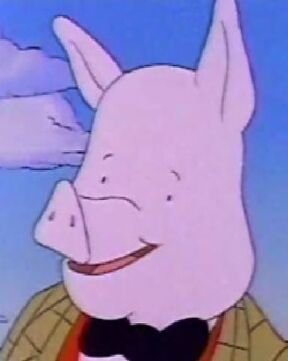 Podgy Pig is one of the main characters of Rupert (Books and TV series) He is voiced by Hadley Kay.
Appearance
Podgy is shown to be a anthropomorphic pig, wearing tan suit with a red vest, and black bowtie, black socks, and brown shoes. On episode Rupert & Podgy in Dreamland Podgy shown wears a dark yellowish pajamas with a black collar, & black sandals, (where he, & Rupert met with The Sandman, at Rupert's House then They decided to go to Dreamland to fight Podgy's fearest enemy: Gigantic Pickle monster.)
On Rupert, & The Sea Serpent Podgy wears a yellowish-stripes black swimming shirt and short pants, when he met with Rupert at the beach on a weekend adventure with his related female cousin Rosalie.
Biography
Podgy Pig, the son of Fishingboat captain Cedric, & Lillian ("Lilly") Pig. As an early toddler days in Nutwood, When Podgy first met with his new best friends like: Rupert Bear, William ("Bill") Badger, & Algy Pug where they use to always playing "Dirty, filthy, mud sand wrestling" with his rival nemesis bullying trouble-making kindergartens like The Fox twins (Ferdy & Freddy), they always tricked rookies like stealing their underwear-diapers including their own Nutwood kindergarten classmates, especially Podgy.
When he's been challenged, or picking on by any bullies, sometimes he muddy-sand wrestled his friends, & always getting into dirtiest around, standing up to his teammate friends not to be bullied, and trouble at his own house home and/or at anybody's in his childhood days. His favorite meal is Pickles, & prune sandwiches for lunch anytime. Ever since after moving in to Nutwood as new neighbors. He loves enjoying comic relief watching The 3 Stooges, and Athletic sports Olympics, & international professional wrestling as fan, in his childhood days. At Age 7, Podgy went to Nutwood Educational Academy, along with his friends that they were all met.
Personality
Podgy Pig is Jolly, yet greedy, not brightly intently with a large appetizer, also a lazy cowardly individual, But a good-hearted chum, & having guts. He joined many adventures with his friends. And sometimes a hungrier stooge of Nutwood, ironically He's very friendly to others like Rupert, Bill, & Algy.
And appears not to see his friends sometimes find him annoyingly stooging around with his vaudeville attitude style like The 3 Stooges that he's enjoy watching, & always heroic like Rupert does. He does a little magic trick talent taught from his Uncle Hector. And he spent most of his time enjoys watching the Olympics, & professional wrestling on TV with his friends together at Nutwood. He went fishing all alone by himself, & sometimes with his family, & friends in the Nutwood lake.
Relationships
Rupert Bear - Leader/Best chums
Bill the Badger - Best chums
Algy Pug - Best chums
Ottoline The Otter - Friend
Cedric Pig - Father
Lillian ("Lilly") Pig - Mother
Hector - Uncle (mentioned in Rupert & the Great Mephisto)
Rosalie - Cousin (in Rupert & The Sea Serpent)
The Sandman - Rescuer (in Rupert & Podgy in Dreamland)
Gigantic Pickle monster - Enemy (in Rupert & Podgy in Dreamland)
Fox twins (Freddy, & Ferdy) - Bullies/rival classmates
Role
In The Nelvana series:
Podgy Pig adventure role with Rupert on the Rupert show.